LULZ so much for filling out my FAFSA.
I make silly noises at myself when I'm bored. (read: Chiquiti Pow Boom Purrrulllpa)
I always say lol/lulz/lawl out loud (even if I'm reading or thinking) and in a low, fat man voice. Like Cam from Modern Family.
Can I get an "amen" for dresses with pockets?!
I feel like the DI in my neighborhood told headquarters too many hipsters were scouting it cause all they have now is crap and shoulder pads.
A plague on the house of the man (because no woman in her right mind would have) who invented shoulder pads.
Hold da phone. Meme is pronounced "meem?" ... I've been saying "mem"...classy, french little buttercup.
Hey lemme tell you some blogs I'm refreshing like a mad woman: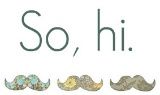 So, Hi.

The Mr. Y Chronicles
Bleubird


Busy Bee Lauren
Taza and Husband
Ok so that last one might really be because Eleanor is darn tootin' cute. Alrighty, well let me finish filling out my plead to the government for money to fund my education. toodles.