Oldie but Goodie, right here:
Sidenote: guys, this song and "Do You Believe in Magic" have been playing on loop for the last ten years of my life. Seriously, I sing each one at least twice a week to myself, never get sick of them. Love it.
I won't give you the gory* details of why I've been confined to these four walls, but lets just say I'm makin the best of it, yeah? I just woke up like three or four days ago and who knows what in heavens name bit me but, by golly I started organizing. Everything.
Everything.
Welcome to my room :) ...Yesterday I changed my bed, to all white sheets. crisper.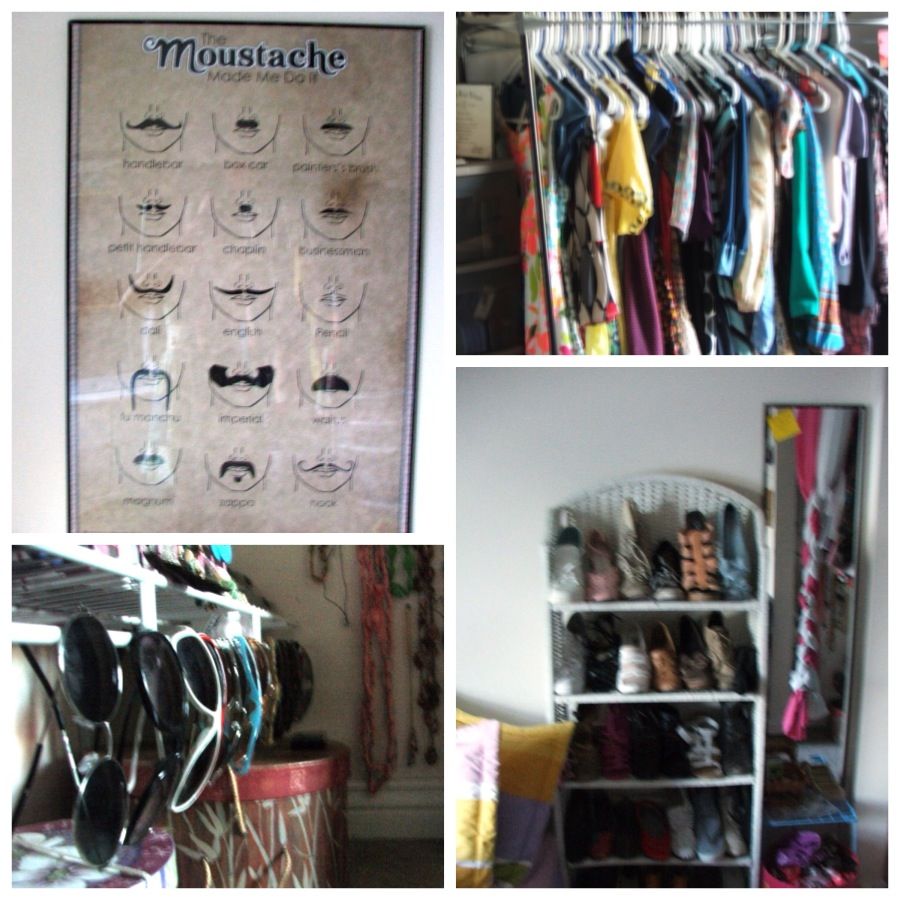 I'm not quite sure why everything came out so "noisy" and blurry. I believe it's because I blasted my ISO 'cause sunlight was running away. Anyways, I'm a little obsessed with sunglasses, dresses, and of course, mustaches. My mother says shoes are also an obsession of mine, I believe differently. My bookshelf and
three drawer...(cupboard..thingamabob..gosh I've been sitting here for three minutes trying to remember what it's called) ...anyways yeah, my one of those (not pictured, cause it's in my mama's room) filled to the brim with shoes, begs to differ.
Ok, JK, I love a lot of things. Like theater, cameras, elephants, hats and....pictures of myself and family.
If I took a pen and marked all the things in these pictures that were gifts from the Mister, this thing would look like a football game plan..thing. Gosh I'VE FORGOTTEN WORDS IN THE ENGLISH VOCABULARY OK!?
I also love lighthouses, and my baby - My closet. I also have a bunch of jewelry I never wear, so if you want any of that, hit me up. ...it was fun to hang and organize though :)
Lulz. Just totally realized the picture with the necklaces is upside down. It's a lot of work to fix it and the Mister is gonna come get me soon.. so you'll just have to flip your head around or somethin.
A note to remind myself, even on my worst days somebody thinks I'm pretty :p
So that's the end of our tour. However, don't be fooled. Not pictured - The bathroom, My computer (which is so, so neatly organized), my filing cabinet, my laundry room, I did laundry, my doggy's room. And my life.
Yoga every mornin, shower, planned outfit, scripture study (morning and evening), breakfast, read the news, two or three chores, jobs (I'll discuss later), craft, go out with the Mister, lunch, spend time with the fam bam, watch a little tv, more organizing, movie, bed. Who knows how long it will last, but hopefully it's here to stay, 'cause it feels good.
I realized why I'm such a mess. Believe it or not, there is a MANIAC OCD Monica Gellar in me. And you know what? I don't blame crazy, procrastinatin', lazy Rob from holdin her down. All this stuff is a lot of work. But.. due to the gory* details I withheld from you, I've kind of been pushed to show that indeed I do know how to be an adult, I've just chosen against it all this time.
Hope I inspired you to go make something a little neater! Really it's nice.
*There was no actual gore in the making of this post.